[cross-posted at Leading from the Heart]
5 days late for my day...better late than never :)
This post is part of one of I posted to my own blog. I thought I'd share it here. Perhaps you or teachers you know have projects that could benefit from this organization. Or maybe you can help out some other teachers who need it.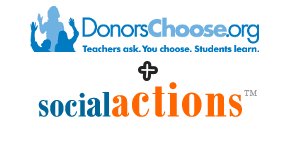 I added a new plugin to Leading from the Heart this morning - 'Possibly Related Classroom Projects'.
This plugin checks out the keywords of a post and matches them with keywords from classroom projects that need your help from donerschoose.org. It then includes links to those projects at the end of the post.
I initially saw this plugin at work on Clay's blog, Beyond School, and then saw it again on Social Actions, a network I recently joined (It's founder, Peter Deitz, is a fellow Montrealer - shout OUT!).
Not believing in coincidences, I knew it was time to check it out further. So here you go. Teachers have great ideas to help children learn and a passion for making them come alive - and can always use help with that. No doubt.
So this is my way of spreading the news about teachers who could use a helping hand. Check out the links below the posts in my blog (or Clays!).We could all use a little help now and then.